Federal Student Loan Changes Under The PROSPER Act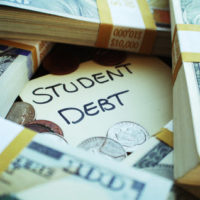 A bill has recently been introduced in the U.S. House of Representatives that could affect hundreds of thousands of student loan borrowers who are hoping to use the Public Service Loan Forgiveness program to pay off their loans. Under the Promoting Real Opportunity, Success and Prosperity through Education Reform (PROSPER) Act, the loan forgiveness program would be eliminated.
The Public Loan Forgiveness program is a federal program that forgives the balance on qualifying federal loans for borrowers who work for an eligible federal, state or local public service job, or a non-profit job. Borrowers who meet these requirements have to enroll in a repayment program and make 120 eligible on-time payments over 10 years. At the end of ten years, the balance of the loan is forgiven and the borrower no longer has to make payments. The program was started in 2007 to encourage more people to go into public service work where they might earn less than if they were working in the private sector.
Borrowers who take out private student loans to pay for their educations are not eligible for this loan forgiveness program. If a borrower has a combination of private loans and qualifying federal loans, the federal loans can be forgiven, but the borrower would remain responsible for the private loans.
The PROSPER Act seeks to eliminate the loan forgiveness program immediately. That means that if the bill passes and becomes law, people taking out new loans starting in 2018, would not be able to rely on the Public Loan Forgiveness program to pay off their student loans. While the PROSPER Act does not seem to affect borrowers who are currently enrolled in the forgiveness program, there have been other actions taken by the federal government that have caused borrowers to wonder if the promise of the loan forgiveness program will be honored. In addition, the bill is not complete in its current form. There may be additional changes in the future.
The PROSPER Act will also affect the general loan forgiveness program that allows borrowers to have their loans discharged after 25 years of consistent payments. It would also reduce the repayment plans available to student loan borrowers.
Future student borrowers will generally be restricted in how much they can borrow from the federal government. For example, there is a proposition to give colleges the ability to limit a student's ability to borrow depending on a student's chosen major. This would supposedly be based on the idea that student majors are linked to employment prospects and the student's future ability to make loan payments.
Contact Us for Legal Assistance
Whether you a student borrower or have consumer loans that are overdue, you may have debt collectors aggressively contacting you in order to collect payments on the debt. While some debt collectors may act within the bounds of the law, some use illegal harassing tactics. If you are being harassed by a debt collector, contact an experienced debt collection abuse attorney in Philadelphia at the law firm of Louis S. Schwartz, Attorneys at Law.
Resource:
edworkforce.house.gov/prosper/