What Could Go Wrong With Buy Now Pay Later Services?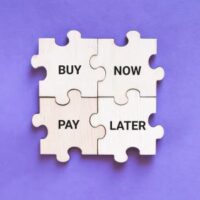 Several decades ago, an affordable Swedish brand became all the rage in America.  IKEA furniture costs a fraction of what most furniture retailers charge, and the shopping experience was unbeatable, from the trendy blue color scheme to the Swedish meatballs and non-alcoholic champagne.  The feeling of euphoria would always dissipate, however, once you got home and tried to assemble the damn thing.  The moral of the story is that, when something seems too good to be true, it probably is.  With the rise of Klarna and its ilk, Americans seem to be falling for another trendy Swedish business model.  Are buy now, pay later services really as safe and convenient as they sound?  If making purchases on a buy now pay later basis is only making your debt problems worse, contact a Philadelphia consumer law attorney.
Adding More Recurring Payments to an Already Tight Budget Makes Your Situation Even More Precarious
Paying for consumer goods in installments is nothing new; without this system, only the richest people would be able to afford houses, cars, and furniture.  Buy now pay later arrangements such as those offered by Klarna, Affirm, and Square are not loans, unlike a home mortgage, financing a car, or using a credit card.  They are more like layaway, except that you get the product you are purchasing before you pay the first installment instead of after you make the last payment.
Your parents can tell you about the agony and the ecstasy of layaway, driving past the furniture store and seeing the couch that your dad was putting money toward every time he received a paycheck, but the months that went by before you could sit on that couch felt interminable.  With buy now, pay later, you just click to accept the terms and conditions, and before you know it, you are lounging on your new couch, figuring out a new monthly budget that includes installment payments for your new purchase.  The trouble with buy now pay later is that its target audience is people who are already on a tight budget.  A buy now pay later impulse purchase could leave you robbing Peter to pay Paul, unable to afford all your other recurring monthly expenses.
Don't Forget to Read the Fine Print
Some buy now pay later services are little better than credit cards.  In other words, some of them charge you interest or late fees if you miss a payment.  Although they are certainly an improvement over exploitative financial services such as payday loans, they are not a magic wand that gives you access to consumer goods you cannot afford.
Let Us Help You Today
A consumer law attorney can help you get the new year started off right by addressing the debt problems that plagued you throughout 2021; the solution may or may not involve buy now pay later purchases.  Contact Louis S. Schwartz at CONSUMERLAWPA.com to set up a free, confidential consultation.
Resource:
cnn.com/2021/12/22/business/buy-now-pay-later-christmas/index.html