Avoiding Consumer Scams During the Pandemic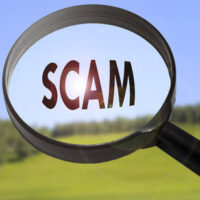 Not surprisingly, scammers use the COVID-19 pandemic to find new and innovative ways to thieve money from unsuspecting consumers. It's important to learn what some of the popular scams are and avoid being taken advantage of by these people. If you believe you're the victim of a consumer scam, contact a Philadelphia consumer attorney right away.
Attorney Louis S. Schwartz at CONSUMERLAWPA.com has years of experience helping Pennsylvania consumers assert their rights after falling victim to a scam. We can help hold unscrupulous companies accountable and to help you get the compensation and relief you deserve. Contact our office today to schedule an initial consultation.
Types of Scams Happening in the Pandemic
Right now, scammers are preying on people in a variety of ways, using the pandemic as cover. They continue to get more creative, which can make it hard to spot them right away. These scammers do not plan to offer the services and products they claim to have either. AARP recently held a conference with top federal government departments to discuss how to combat potential fraudulent acts and outsmart these savvy scammers. Government officials warn consumers to watch for the following:
Do not give your Medicare number out if it's someone other than your health care provider, doctor, or other trusted person.
Do not release information about your Social Security benefits as offices are not closed, and benefits are still being paid.
You do not need to pay to be part of the US census, and the census board will never ask for your Social Security number.
Strengthen your passwords and watch for suspicious links when browsing the internet.
You will never be asked to provide financial or identifying information regarding your economic impact payment.
The CDC or WHO will never ask for identifying information or ask for payment.
Do not click on ads for cures or prevention claims related to COVID-19.
If someone you don't know offers to buy your groceries or pick up prescriptions, it could be a scam.
The FTC recommends remembering the following steps to help avoid potential Coronavirus scams:
Coronavirus test kits: Ignore offers for home test kits, coronavirus medication, or vaccinations, which have no proof that they work. Many tests being advertised have not been approved by the FDA.
Robocalls: Hang up the phone when you receive a robocall as some are illegal scams designed to sell everything from work-at-home schemes to low-cost health insurance.
Contact tracers: Learn how to tell the difference between a real contact tracer versus a scammer. Legitimate contract tracers won't ask you for your financial information.
Research charities: Research the alleged charity yourself before donating; never donate in cash, wire money, or give a gift card.
Emails: Pay attention to phishing text messages and emails that claim to be from the government. Do not click any links. Other emails are illegally claiming to be the WHO or CDC.
Contact a Pennsylvania Consumer Law Attorney
If you are the victim of a consumer scam or fraud, you need to speak with an experienced Philadelphia consumer law protection attorney right away. Contact Louis S. Schwartz at CONSUMERLAWPA.com today to schedule an initial consultation. Let us put our knowledge and experience to work for you.