Used Car Dealers and Selling Vehicles "As Is"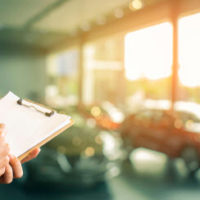 In prior decades, many used car dealers used the phrase "as is" to justify the sale of defective or damaged vehicles to consumers, who when they later discovered their car's issues, could not pursue a claim against the dealer who stated that the buyer had been forewarned that they may be buying a car with issues. Fortunately, a few years ago, the FTC stepped in and implemented a series of regulations regarding the use of "as is" on vehicle price stickers. This means that some buyers may still have claims against the used car dealer who sold them their vehicle, even if they purchased the vehicle "as is." For help filing your own claim against a dealer who used fraudulent means to sell you a vehicle, please contact a member of our used car fraud legal team for advice.
New "As Is" Rules
Under Pennsylvania law, used car dealers are not allowed to use the term "as is" when selling a vehicle unless the sale contract, agreement, or receipt recording the transaction contains a statement explaining that:
The vehicle is being sold without either an express or implied warranty; and
The buyer will bear the entire cost of repairing any defects in the vehicle that currently exist or that could occur in the future.
This notice must be included in addition to a statement placed in the window of the vehicle. Furthermore, dealers are prohibited from making oral or written statements, that either directly or impliedly contradict this statement as they relate to the quality, performance, or reliability of the vehicle. Essentially, "as is" sales only prevent buyers from raising implied warranty claims, but doesn't protect sellers from claims of fraud, negligence, or the use of unfair practices as they pertain to the condition or history of the car when it was sold. Furthermore, even if a dealer is selling a vehicle "as is," it is still required by state law to disclose certain types of damage, including:
Frame damage;
Cracked engine blocks;
Transmission-related issues;
Differential damage; and
Flood damage.
Dealerships are also required to notify potential buyers when a vehicle was previously totaled and can be held liable for damages when they fail to fulfill this duty.
Buyers Guides
In addition to the sticker in a vehicle's window and a statement on the sales agreement, used car dealers are required to comply with the FTC's Used Car Rule. This rule states that dealers must also display a Buyers Guide in all of their used cars and to provide a copy to the buyer upon concluding the sale. This applies equally to light-duty trucks and vans, standard passenger vehicles, new cars that have never been owned, used as rentals, or leased, but have been driven by employees of the dealer, which are known as demonstrators, and program vehicles, which are current model year cars, with low mileages that have been returned after short-term rentals or leases. Buyers Guides must come with a variety of information, including whether the vehicle is being sold "as is" or whether it comes with a warranty.
Call Our Legal Team Today
For help with your own used car fraud claim, please contact dedicated attorney Louis S. Schwartz at CONSUMERLAWPA.com today. Our Pennsylvania legal team is eager to assist you with your case.
Resource:
pacode.com/secure/data/037/chapter301/s301.4.html