Legal Remedies for Bad Faith Insurance Practices in Pennsylvania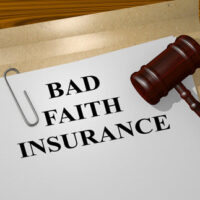 While many of us are insured by companies that use great care in reviewing claims, responding to policyholder concerns, and providing proper coverage after an accident, theft, or a natural disaster, an alarming number of insurers are not so conscientious. Fortunately, consumers in Pennsylvania are protected from the bad faith insurance practices of unscrupulous insurers by state law, so if you believe that your insurer is engaged in deceptive practices or wrongfully denied your claim, it is important to contact an experienced Philadelphia insurance claim denial lawyer who can help you seek compensation for your losses.
What is Bad Faith?
Under Pennsylvania law, consumers are permitted to file a private cause of action against an insurance company for its use of bad faith practices in denying a claim, which includes unfounded refusals to pay the proceeds of a policy. In fact, an insurer can be held liable for bad faith practices even if its actions were not fraudulent if the plaintiff can prove that:
The insurer didn't have a reasonable basis for denying a claim; and
The insurer knew or recklessly disregarded the fact that it lacked a reasonable basis to deny a claim.
The most common examples of actions that qualify as bad faith under this standard include:
An insurer's failure to investigate a claim in a timely manner;
An insurer's failure to investigate a claim at all or to conduct a proper investigation;
An insurer's decision to offer an unreasonable settlement in a first party claim;
An insurer's decision to force a policyholder to litigate a claim when liability is clear; and
An insurer's failure to settle a third party claim within the policy limits.
It's also important to note that, unlike in prior decades, plaintiffs are no longer required to prove that an insurer was motivated by self-interest or ill-will in order to recover under a bad faith insurance practices claim. Evidence of self-interest or malice can however, be used to prove that an insurer knew or recklessly disregarded its lack of reasonable basis in denying a policyholder's claim.
Financial Compensation
If a court finds that an insurer acted in bad faith, it has discretion to:
Award any interest accrued on a claim from the date of its submission in an amount that is equal to the prime rate of interest plus three percent;
Assess punitive damages against the insurer; and
Assess court costs and attorney's fees to the insurer.
While most people don't want to resort to litigation to resolve an insurance claim, doing so is often the best and only way that wronged policyholders can be compensated for their losses, making it especially important for those who find themselves in this position, to retain an experienced attorney who will give them the best possible chance of success.
Contact Our Office By Phone or Online Message Today
Please contact Louis S. Schwartz at CONSUMERLAWPA.com to find out more about how a dedicated insurance claim denial attorney can help with your own insurance-related questions and concerns.
Resource:
legis.state.pa.us/WU01/LI/LI/CT/HTM/42/00.083.071.000..HTM
https://www.consumerlawpa.com/how-much-time-does-my-pennsylvania-insurer-have-to-review-my-claim/