What is Repair Shop Fraud?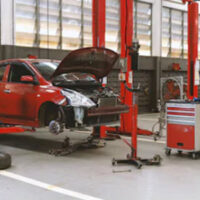 We've all had to take our vehicles to a mechanic at one point or another, whether for a safety inspection, repair estimate, or a repair itself. In taking vehicles to repair shops, we place an enormous amount of trust in the mechanics employed there. Many mechanics fully repay this trust by making careful repairs, charging reasonable fees, and keeping accurate and thorough records. Unfortunately, not all repair shop employees are so conscientious, which can have serious consequences for customers who may end up driving an unsafe vehicle or overpaying for shoddy or unnecessary work.
Although it is possible for auto shop owners and employees to be held accountable for failing to use reasonable care in making repairs, doing so can be difficult, so if you recently paid for your vehicle to be worked on, but believe that the repairs weren't made or were made improperly, it is important to contact an experienced repair shop fraud attorney who can walk you through the process of filing a claim.
Pennsylvania's Consumer Protection Laws
In Pennsylvania, there are a number of government regulations in place that protect consumers, including repair shop customers, from abuse and fraud. Under these rules, wronged consumers can hold negligent or dishonest mechanics liable for:
Providing false or misleading estimates, including guaranteeing one rate and then drastically exceeding it without approval;
Inflating repair and labor costs;
Failing to disclose what work needs to be performed on a vehicle;
Breaching a guarantee or warranty;
Failing to perform the requested repair work in a reasonable manner or within a reasonable time frame;
Using dangerous or defective parts when maintaining or repairing a vehicle;
Performing unnecessary or unauthorized work; and
Causing damage to a vehicle while in their possession.
In an effort to avoid liability for these types of activities, many repair shops include disclaimers in their contracts that limit the scope of their obligations. While these contracts are sometimes enforceable, they cannot be used to limit the mechanic's liability for his or her own actions or for intentional wrongdoing.
Preventing Repair Shop Fraud
Unfortunately, it is not always possible to avoid being taken advantage of by an auto shop. There are, however, a few steps that consumers should consider taking in an effort to avoid becoming the victims of fraud, including:
Obtaining referrals from trusted sources, including insurers;
Visiting repair shops and assessing the types of cars in the lot, as older vehicles could indicate a lack of computerized technology, as well as how long cars sit in the lot before being serviced;
Obtaining and comparing prices from multiple auto body shops;
Determining whether a particular auto body shop provides written warranties; and
Determining whether a repair shop uses written damage reports, which typically contain more details about repairs than written estimates.
Those who are careful to take these steps, but are still defrauded by a mechanic or auto repair shop, could be entitled to damages compensating them for their losses. Please call our legal team today to learn more.
Repair Shop Fraud Lawyer in Philadelphia
For help determining whether you have a valid legal claim against an unscrupulous auto repair shop or mechanic, please contact dedicated Philadelphia repair shop fraud lawyer Louis S. Schwartz at CONSUMERLAWPA.com today.
Resource:
pacodeandbulletin.gov/Display/pacode?file=/secure/pacode/data/037/chapter301/s301.5.html&searchunitkeywords=repair,shop&origQuery=repair%20shop&operator=OR&title=null