Does It Affect Your Finances If Your Ex-Spouse Files for Bankruptcy?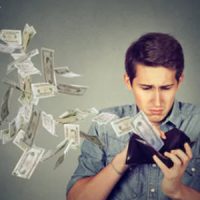 Rebuilding your finances after divorce is never easy; you may have to find some new favorite family activities that cost a lot less than the ones you used to engage in before your divorce.  If Dave and Buster's was your favorite Saturday hangout, you might have to substitute it with feeding ducks in the park and then picking up food from the drive thru of whichever restaurant is offering discounts and then going home and watching whichever movies are available on the free version of YouTube, ads and all.  The good news is that, now you are divorced, you are free of your ex-spouse's financial habits that caused so much stress during your marriage.  You can finally see your debt balances get smaller as you entertain your kids on a shoestring budget during your parenting time and pick up additional gigs during your ex's parenting time.  Your ex-spouse's buy now pay later (BNPL) splurges or half-baked business ventures can no longer hold you back.  If your ex defaults on debts or files for bankruptcy, it is no longer your problem, or is it?  If creditors are still bugging you about debts that the divorce court enables you to wash your hands of, contact a Philadelphia debt collection abuse lawyer.
Divorcing Your Ex-Spouse's Debts Can Be a Messy Affair
When a couple gets divorced, the court divides their marital assets and marital debts.  Pennsylvania law considers a debt marital if the couple incurred the debt during the marriage, regardless of which spouse signed the loan agreement and which one benefited from the borrowed money or the item whose purchase you financed.  Therefore, it is legally possible for the court to hold you responsible for paying your ex-spouse's medical bills or credit card debt, although in practice, this rarely happens.
Most couples agree on how to divide their marital assets and debts during mediation, and the judge does not have to decide.  It is usually obvious which spouse should be responsible for which debt; in most cases, each spouse walks away from the marriage responsible for his or her own car loan and student loans.  If both spouses' names are on the mortgage loan, the spouse who keeps the marital home usually refinances the mortgage so that he or she is the only one responsible for repaying the balance.  When the judge must decide how to divide the debts, Pennsylvania follows the rule of equitable distribution, which means that the judge can decide on a case-by-case basis the fairest way to divide the debt; you do not automatically become responsible for half of the debts your ex-spouse racked up during your marriage.
Creditors are not party to your divorce agreement, and they might still contact you in pursuit of debts that the court ordered your ex to repay.  If your ex files for bankruptcy, the creditors might still pursue you until the bankruptcy court discharges the debts.  A consumer law attorney can help you if debt collectors keep bothering you about your ex-spouse's debts.
Contact Louis S. Schwartz About Debt Collector Harassment After Divorce
A Philadelphia consumer law attorney can help you stand up to debt collectors who try to get you to pay your ex-spouse's debts.  Contact Louis S. Schwartz at CONSUMERLAWPA.com to set up a free, confidential consultation.
Source:
weekand.com/home-garden/article/ex-filing-bankruptcy-house-cosigned-together-affect-me-18036355.php