Debt Relief for Seniors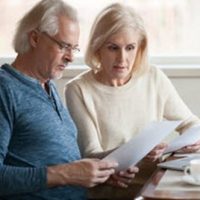 People spend decades of their lives working hard and borrowing money strategically, and repaying their debts so that they can retire comfortably.  The goal is that, in retirement, your expenses will be low enough that your retirement savings, Social Security income, Medicare, and long-term care insurance can meet all of your needs.  Unfortunately, this is not the reality for most people.  Not everyone who has reached an age where they are no longer healthy enough to work full-time has enough income that they can afford their expenses.  Reversals of fortune, Parent PLUS loans, and lingering debts from your working age can follow you around even after you reach age 65.  Seniors who are struggling with debt should contact a Philadelphia debt relief lawyer, who can help you get relief from your debts with or without filing for bankruptcy.
Will Filing for Bankruptcy After You Retire Make Things Better or Worse?
People above age 65 have the right to file for bankruptcy protection, and so does everyone else.  Federal bankruptcy laws create a pathway for everyone to discharge eligible debts they cannot pay, once the court has determined that the applicants are being truthful about their financial hardships and after negotiating with creditors about a fair settlement amount.  Only certain types of debts are eligible for discharge in bankruptcy.  Chapter 7 bankruptcy allows the bankruptcy court to liquidate non-exempt assets and put the proceeds toward debt settlement.
The ideal candidate for chapter 7 bankruptcy is someone whose unpayable debts are medical bills and credit card debt; this applicant owns a maximum of one house and one car, and likely still owes money on the loans he or she took out to buy them.  Retirees are not the ideal candidates for bankruptcy filing, even though the court will not stop them if they choose to file.  Social security income and money still saved in retirement accounts are safe from collection efforts by creditors, whether or not you file from bankruptcy.  Likewise, seniors tend to have more home equity than younger people; this could count against you in a bankruptcy case and make the court order you to pay more to settle your debts, reducing the amount of debt relief you can get from your bankruptcy case.
How to Make Debt Collectors Stop Bugging You
The biggest help that seniors can get from debt relief lawyers might not come from a courtroom.  It may be as simple as a lawyer telling your creditors directly that you have nothing to pay except your Social Security income, which is exempt; if you want to use this argument, you should keep your Social Security income in an account separate from other money.  Your lawyer may also be able to settle debts with individual creditors outside of court.
Contact Louis S. Schwartz About Debt Relief in Your Golden Years
A Philadelphia consumer law attorney can help you if debts are casting a shadow over your retirement years.  Contact Louis S. Schwartz at CONSUMERLAWPA.com to set up a free, confidential consultation.
Sources:
nolo.com/legal-encyclopedia/senior-citizens-bankruptcy-should-elderly-file.html
debt.org/bankruptcy/filing-as-a-senior-citizen/