Actions You Can Take to Stop Your Debts From Getting Bigger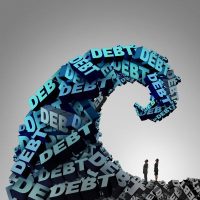 You are not the only person who is struggling financially.  You have already heard the statistic about how two thirds of Americans cannot afford a $400 emergency expense without using a credit card and how two thirds of households with annual income above $100,000 live paycheck to paycheck.  An even starker sign of how bad the situation is for consumers is that, in 2023, an event that usually occurs every year did not occur.  Specifically, most years, the total balance owed on credit cards by U.S. consumers is lower in the first quarter of the new year than it was in the last quarter of the old year.  This usually happens because people make New Year's resolutions to reduce their spending and put more of their income toward paying down debts, or because they spend money that they received as end-of-year bonuses or holiday gifts on debt repayment.  This year, credit card balances continued to grow all the way through frugality season.  The advice one usually receives for paying down debts now sounds hollow and tone deaf; you are just trying to survive until the next pay period.  If calls from debt collectors are stressing you out so much that you cannot think clearly about your financial situation, contact a Philadelphia debt collection abuse lawyer.
Start Negotiating With Creditors Before Things Get Worse
It is easy to feel powerless when your phone, computer, and mailbox give you an endless barrage of bills and debt collection notices.  If you make the first move to tell creditors that you are struggling to put together the money for an upcoming payment, then this puts you in a stronger position to negotiate.  When you have been a customer of a phone company or some other company for a long time, they might be willing to lower the cost of your services just because you ask nicely.  Likewise, if you cannot afford an upcoming payment, you might be able to get an extension just by asking.  You also have a better chance of lowering your monthly payments and extending the repayment term on a car loan or other debt if you negotiate for this change before missing any payments.
Assess Your Financial Situation and Make a Temporary Budget
People who tell you that you can get out of debt just by making a budget clearly have much higher income than you do.  Making a budget will help you eliminate any expenses you can eliminate; for example, it may persuade you to cancel your Netflix subscription and watch free videos on YouTube instead, even if it means being patient until you can skip the ads.  Don't expect miracles, though; if anything, your goal is to find individual snowflakes of money to put toward your debts, rather than a proper debt snowball.  Then set your sights on increasing your income by gaining steam in your career or taking on additional gigs.
Contact Louis S. Schwartz About Making It Through to Better Times
A Philadelphia consumer law attorney can help you be proactive to keep your debts from getting worse.  Contact Louis S. Schwartz at CONSUMERLAWPA.com to set up a free, confidential consultation.
Source:
cnbc.com/2023/05/30/with-emergency-savings-down-and-credit-card-balances-up-3-steps-to-help.html