What Counts as Debt Collector Harassment?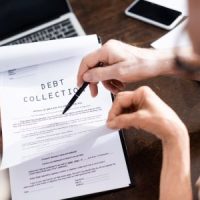 The worst part of your day is seeing email from debt collectors in your inbox or getting calls from numbers you don't know, since you assume that it will be a creditor calling about a new debt or a new collection agency calling about an old debt.  You avoid checking your physical mailbox for as long as possible, fearing the bills and debt collection notices you might find.  The worst thing about this situation is that you cannot afford to pay your debts, or at least, you cannot afford to pay enough toward them to make them get visibly smaller; in your financial situation, the debt snowball has melted like so much water ice in a Philadelphia summer.  You are upset because you owe money that you can't pay, not because debt collectors are reminding you of this.  Despite this, "don't shoot the messenger" is not much consolation.  Creditors and collection agencies are allowed to contact borrowers about the repayment of debts, but they may not do so in an excessively aggressive or demeaning way; this is debt collector harassment.  If you need creditors to back off while you try to think of a feasible debt repayment or debt settlement strategy, contact a Philadelphia debt collection abuse lawyer.
Your Rights Under the Fair Debt Collection Practices Act
The Fair Debt Collection Practices Act (FDCPA) has been on the books since 1977, but it has undergone several updates as communication technology has become advanced.  It states that debt collectors may not contact borrowers excessively about debts.  Debt collectors also may not contact borrowers publicly, as this public discussion of the debt counts as an attempt to embarrass the borrower in order to pressure him or her into paying.  These are the limits that the law currently sets on debt collection efforts:
Debt collectors may not call borrowers more than seven times in a seven-day period or send more than seven emails during this same period.
Upon speaking to a borrower about the debt or receiving an email response, the debt collector must wait seven days before contacting the borrower again.
Debt collectors may not call borrowers before 8:00 in the morning or after 9:00 in the evening.
If a borrower asks a debt collector to stop contacting him or her about a debt, the debt collector must stop. The borrower still owes the debt, but now it is up to the borrower to contact the creditor or collection agency and pay.
When debt collectors send messages to borrowers on social media, these messages must not be visible to anyone other than the sender and the recipient.
The debt collector cannot contact anyone other than the borrower about the borrower's debt.
A consumer law attorney can help you get debt collectors to leave you alone and can also help you find ways to settle or discharge your debts.
Contact Louis S. Schwartz About Stopping Debt Collector Harassment
A Philadelphia consumer law attorney can help you stand up to aggressive debt collectors.  Contact Louis S. Schwartz at CONSUMERLAWPA.com to set up a free, confidential consultation.
Source:
ftc.gov/legal-library/browse/rules/fair-debt-collection-practices-act-text