Used Car Dealerships and Airbag Fraud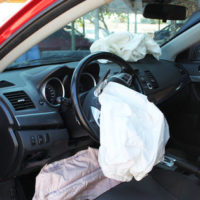 Both state and federal law require used car dealers to have all of their vehicles inspected before they can be sold. Unfortunately, some dealers have inspections conducted by unqualified mechanics who miss important safety defects, while others purposely avoid inspections to save on costs. Both of these actions are unlawful and can leave consumers with vehicles that are dangerous not only to themselves, but to anyone else in the car or on the road. This is especially true when it comes to airbag defects, so if you or a loved one were injured in an accident when an airbag in a recently purchased used vehicle either failed to deploy or deployed improperly, it is critical to speak with an experienced used car fraud attorney who can help you hold the responsible party accountable.
Vehicle Inspections
When used car dealers conduct inspections of their vehicles, they are required to use a mechanic who has been registered with the DMV and can prove that he or she has a certificate of passing status. While many dealers are careful to have their inspections conducted by qualified individuals, not all dealerships are so conscientious and may only conduct a cursory inspection, or no inspection at all. This type of conduct is extremely dangerous, as these inspections are intended to help identify serious defects that pose a very real threat to users' safety. For instance, aside from brakes and seat belts, dealers are required to certify that their vehicles are equipped with airbags that will deploy correctly in the event of a collision.
Potential Problems with  Your Airbags
When an airbag is deployed, it must be replaced properly by a qualified professional. Unfortunately, it can be difficult to determine whether this was actually completed for a vehicle that has been in a collision, especially if the dealer is claiming that the car passed inspection. For this reason, consumers are encouraged to remain wary when they are thinking about buying an "equipped airbag", as it is possible that the products are outdated, constructed with inferior materials, improperly replaced, or non-existent. One way to ensure that a vehicle is equipped with airbags is to obtain a vehicle history report to see if the vehicle was ever in an accident. If it was, potential buyers should wait to make a purchase until they have had an independent mechanic inspect the vehicle.
Open Recalls
Unfortunately, according to a recent decision issued by the FTC, even when a car is subject to a recall for any safety issue, including defective airbags, dealers are not required to disclose it to potential buyers. To help ensure that you do not purchase a vehicle with an open airbag recall, you may want to consider checking SaferCar.gov, which is a government website dedicated to listing vehicle models that are subject to open recalls; pointedly asking the dealer about the existence of any open recalls and requesting proof of repair; and hiring an independent mechanic to check the airbags.
Call an Experienced Used Car Fraud Attorney Today
If you purchased a used vehicle with defective airbags, you could be eligible for compensation. To learn more about your legal rights, please call dedicated Philadelphia used car fraud attorney Louis S. Schwartz at CONSUMERLAWPA.com by calling 215-790-1800.
Resource:
dmv.pa.gov/VEHICLE-SERVICES/Inspection-Information/Safety-Inspection-Program/Pages/default.aspx