Undisclosed/Concealed Frame Damage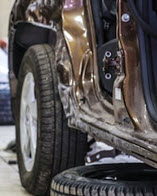 Under Pennsylvania law, used car dealers are required to disclose when their vehicles have certain types of damage, including bent and cracked frames. Unfortunately, this type of damage is difficult to see with a visual inspection, so when unscrupulous dealers fail to disclose problems with a frame, an unknowing purchaser could end up with a defective car, putting him or herself, as well as anyone else on the road, in danger. If you or a loved one were taken advantage of in a similar way, please contact an experienced used car fraud attorney who can help you seek compensation for your financial losses.
What Qualifies as Frame Damage?
A vehicle's frame plays an important role in the car's functioning, as well as the safety of any occupants. For instance, modern vehicle frames are designed to fold on impact and absorb damage, thereby reducing the chances that drivers and passengers will be injured. However, vehicle frames are made up of a number of different parts that must all be functioning properly in order for the frame to fulfill this important role. The unirail, for example, is one of the strongest pieces of the frame and supports the engine, so if the front of the vehicle is damaged, it crumples and stops the impact from causing further damage. While frames are designed to absorb significant impacts, they can still be damaged, so even a small crack or bend in the unirail can compromise the rest of the frame.
Signs of Frame Damage
Unfortunately, not all frame damage is obvious, as repairs are often made to the exterior of vehicles that help hide underlying problems. There are, however, a few different signs that indicate serious damage, including:
Evidence of re-painting;
Pulling to one side;
Back wheels that are not parallel with the front wheels;
Evidence that parts of the vehicle's body are pulling away from each other;
Evidence that the car is leaning too far to the right or left; or
Doors that are difficult to open, don't close properly, or swing open too freely.
Although looking for these signs can help prevent the purchase of a defective vehicle, one of the best ways to avoid buying a car with a bent or cracked frame is to have it inspected by a trusted mechanic. Most auto repair shops have special equipment that can be used to provide purchasers with a conclusive test regarding the status of the vehicle's frame.
Liability
Used car dealers that fail to disclose frame damage that they knew or should have known about can be held liable for damages compensating the wronged parties for their financial losses, which could include a full refund, vehicle repair costs, attorneys' fees, and related expenses. For help filing your own claim against the used car dealer who sold you a defective or damaged vehicle, please contact our legal team for assistance.
Contact Our Office Today
To schedule a free case evaluation with a dedicated Pennsylvania used car fraud attorney, please contact Louis S. Schwartz at CONSUMERLAWPA.com. You can also reach us by calling 215-790-1800 or by completing one of our brief online contact forms.
Resource:
autonews.com/article/20141124/RETAIL04/311249988/structural-damage-or-fender-bender