Disclosing Flood Damage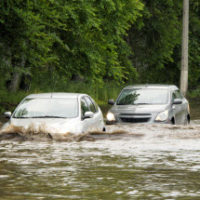 Although Pennsylvania's Lemon Law doesn't cover used cars, consumers are still protected by the state's Automotive Industry Trade Practices law, which makes it unlawful to sell used vehicles without disclosing certain types of damage to buyers. This includes flood damage, so if you recently purchased a used vehicle and later discovered that it had sustained flood-related damage before you bought it, you should consider speaking with an experienced used car fraud attorney who can help you seek a refund for your purchase.
Automotive Industry Regulations
In Pennsylvania, used car dealers must comply with specific regulations when it comes to flood-damaged vehicles. For example, while flood-damaged cars can be issued certificates of salvage by the state's department of transportation and then sold, this is only possible if the certificate specifically discloses the damage. Even when these requirements are met, the vehicle must then pass an enhanced vehicle safety inspection, only after which, it can be issued a "flood" or "reconstructed flood" title. While many dealers are careful to disclose this type of damage to buyers, not all do so, which can have dangerous consequences for buyers, who could end up stuck with an unsafe vehicle with diminished value.
Examples of Flood Damage
Unfortunately, not all used car dealers disclose that a vehicle was damaged in a flood, so buyers are encouraged to keep an eye out for specific signs that indicate water damage, including:
Water stains, mud, sand, or mold underneath the carpets, floor mats, dashboard, or seats, or inside the roof cloth;
Rusty metal on the inside of the car;
Evidence of oxidation under the hood of the car, which often takes the form of small holes or white powder;
Musty odors in the trunk or glove box when running the air-conditioning or heater;
Excessive fogging of windows or the presence of moisture inside both interior and exterior lights;
Brittle wiring;
Water beads in the oil or transmission fluid;
The presence of mud or grit under the hood or in the spare tire compartment; or
The erratic operation of electrical components, such as power locks, radio, sunroof, lights, and air-conditioning.
Remaining vigilant for this type of evidence is important, as flood damage not only diminishes a car's market value by as much as 75 percent, but also corrodes engine and electrical components, as well as brakes. With so much at stake, consumers are also encouraged to search for a vehicle's history report, which will disclose any flood damage.
Contact a Used Car Fraud Attorney
Officials estimate that Hurricane Harvey damaged between 500,000 and one million vehicles, which if true, means that twice as many cars were damaged during this disaster than during Hurricane Katrina. Many of these vehicles are expected to begin flooding the market, so consumers looking to buy a used car should seek an independent inspection and if duped into buying a flood damaged car, should speak with an experienced used car fraud attorney. To discuss your own case with a dedicated Philadelphia attorney, please contact Louis S. Schwartz at CONSUMERLAWPA.com today.
Resource:
pacode.com/secure/data/037/chapter301/chap301toc.html