Westmoreland County Man Who Sold 67 Used Vehicles Under False Premises Sentenced To House Arrest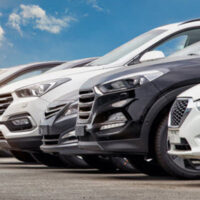 Lots of buyers are on their guard as soon as they set foot in a used car dealership.  The brightly colored balloons making the dealership visible from a distance and the megawatt smiles of the sharply dressed salespeople raise red flags for car buying skeptics.  The employees at used car dealerships are willing to answer all of your questions, even if they put a salesy spin on everything.  If you ask enough questions, you can usually figure out whether the car you are inquiring about is worth the money you are being asked to pay for it.  The truly shady deals take place when the buyer and seller just want to get the sale accomplished as quickly and cheaply as possible, where the transaction takes place after just some cursory online communications; no one expects much.  Over the past two years in Pennsylvania, a guy advertised vehicles on Facebook and met people in parking lots to make the transactions, but he pretended to be a licensed used car dealer, and at least 67 people fell for it.  If you have been a victim of used car fraud, contact a Philadelphia used car fraud lawyer.
Undercover Cop Catches Phony Used Car Salesman in the Act
In 2019 and early 2020, Christopher Post of Lower Burrell posted numerous videos on Facebook of vehicles he was offering for sale; he claimed to be licensed as a used car salesman.  He got away with it until a woman bought a 2000 Nissan Maxima from him for $1,500.  When she went to register it, she discovered that, not only did the car not belong to Post, but it could not pass inspection, and it would need $2,000 in repairs just to pass.  The woman reported Post to Lower Burrell police.
An undercover police detective, Zachary Beam, contacted Post through Facebook and arranged to buy a car from him.  Beam met Post in a Dairy Queen parking lot, where Beam test drove the vehicle; Post's father was also present. An investigation then revealed that Post continued to pose as a used car salesman online and to sell vehicles, even in 2020, after he had become aware that the investigation was going on.  Post pleaded guilty to money laundering and to summary offenses related to selling used cars.  In March 2021, he was sentenced to one year of house arrest.  The court also ordered him to pay $1,500 in restitution to the woman who had bought the Nissan from him in 2019.
Contact an Attorney Today
Used car fraud is widespread, but most of the time, no one faces when the sale of a used car is based on lies.  A used car fraud lawyer can help you if a used car dealer, or someone claiming to be one, made false statements or showed you falsified documents to mislead you into buying a car.  Contact Louis S. Schwartz at CONSUMERLAWPA.com to set up a free, confidential consultation.