Odometer Fraud on the Rise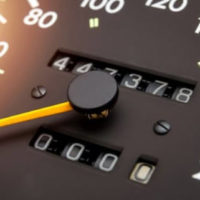 A used car dealer in Colorado was recently charged with scamming customers by selling vehicles with altered odometer readings. Unfortunately, this type of conduct is becoming more and more common in the used car industry, a trend that is largely attributable to the increasing use of digital odometers, which are much easier to replace or roll back. In fact, the National Highway Traffic Safety Administration (NHTSA) estimates that as many as 450,000 vehicles are sold each year with false odometer readings, costing American consumers more than $1 billion annually.
Fortunately, it is possible for customers who were taken advantage of by auto dealers who unlawfully tampered with the odometers on their vehicles, to hold the at-fault parties accountable by filing a claim against them in court. However, doing so can be a complicated process. If you were recently sold a vehicle and later determined that your odometer had been tampered with, it is important to contact an experienced used car fraud attorney who will aggressively represent your interests, whether during settlement proceedings or in the courtroom.
What Qualifies as Odometer Fraud?
The NHTSA defines odometer fraud as disconnecting, altering, or resetting a vehicle's odometer reading with the intent to change the number of miles indicated. Odometer tampering has become easier than ever, which is in large part due to the use of digital odometers on newer model vehicles. Odometer fraud is much more difficult to detect on digital odometers than on traditional odometers, as unlike their predecessors, the newer models do not have any moving parts. For this reason, it is especially important for buyers who are interested in purchasing a used car to obtain a detailed history report of the vehicle and have a mechanic inspect it before signing a contract.
Legal Odometer Alterations
Although rolling back an odometer with the purpose of defrauding consumers is unlawful, there are some situations where dealerships are permitted to replace an odometer, namely when it is malfunctioning. In these cases, dealers are required to place a sticker on the inside of the door with certain information, including:
The date of service; and
The mileage on the original odometer at the time of service.
Similarly, federal law requires used car dealers to provide written disclosure on vehicle titles of the mileage registered on an odometer at the time of transfer. If, for some reason, the odometer reading is incorrect, dealerships must disclose this to the buyer and include the information on the title. The only time that dealers do not have to fulfill these requirements is when a car is ten years or older, in which case, the dealer will be exempt from the written disclosure rules. Otherwise, dealership can be held liable for their failure to comply with federal regulations.
Contact an Experienced Philadelphia Used Car Fraud Attorney
If you recently purchased a used car and later discovered that you had been misled regarding the number of miles on the vehicle, you could be eligible for damages. Please contact Philadelphia used car fraud attorney Louis S. Schwartz at CONSUMERLAWPA.com to learn more about your legal options. You can also schedule a free case evaluation with a member of our legal team by calling 215-790-1800 today.
Resources:
kdvr.com/2019/01/29/used-car-dealership-accused-of-rolling-back-odometers-to-erase-2-7-million-miles-on-sold-vehicles/
nhtsa.gov/equipment/odometer-fraud
https://www.consumerlawpa.com/dealership-advertising-requirements-in-pennsylvania/