Mill Hall Roofing Contractor Faces Charges For Home Improvement Fraud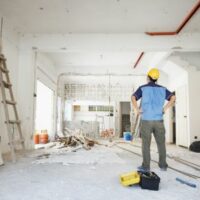 When you hire a contractor to make repairs to your house, choosing a contracting company wisely takes effort on the customer's part.  Unless someone you personally know has recommended the contractor to you, you should read online reviews, and red flags should go up not only if there are multiple negative reviews, but also if the good reviews are too numerous and too glowing to be credible.  When you meet with the contractor, you should ask them to show you proof of their business license and insurance, and you should ask them to give you a written estimate in writing before they begin work.  Even if you do all these things, there is no guarantee that the contractors will finish the work on time or that they will not make any mistakes, but if the work is late or unsatisfactory, at least you will be in a firm position, legally speaking, when it comes to resolving disputes related to the work.  If you suffered financial losses because a home improvement contractor did not complete the repairs as planned, contact a Philadelphia home contractor fraud lawyer.
Roofing Contractor Ghosts Client Who Paid Him $600 Deposit
In December 2019, a woman in Nippenose Township contacted Jason Port of Pittbull Construction to repair the rubber roof on her house.  Port came to the victim's house and told her that the repairs would cost $800.  He asked her to pay him $600 to buy materials for the repairs, and she wrote him a check with "roof" in the memo line.  They did not sign an agreement or exchange any other paperwork.  Port cashed the check the same day, but he did not return to start work on the repairs.  He contacted the victim several days later and told her that he would have "some kid" go to the victim's house to make the repairs but this kid, if he even existed, never contacted the victim or went to her house.  The victim called Port several times after that and left him voicemails, but he never responded, completed the repairs, or returned the money.
Port, 40, was arrested on January 21 and charged with one count of home improvement fraud and one count of deceptive or fraudulent business practices.  Both of these charges are criminal misdemeanors; the sentences could include fines, probation, or incarceration in county jail.  The court might also order him to pay restitution by reimbursing the victim for the $600 he stole from her.  Even if he is convicted, the victim still had to live with a defective roof for a lot longer than necessary and had to spend more to get her roof fixed than if she had originally dealt with an honest contractor.
Contact an Attorney Today for Help
A home improvement fraud lawyer can help you if a home contractor took your money and then never came back to do the work.  Contact Louis S. Schwartz at CONSUMERLAWPA.com to set up a free, confidential consultation.
Resource:
northcentralpa.com/news/mill-hall-contractor-charged-with-home-improvement-fraud/article_3c79fbd0-5e69-11eb-a2f7-73159637e899.html