Beware Of Parent PLUS Loans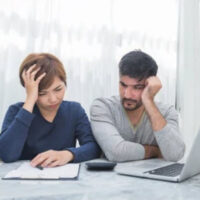 Saving money to fund your children's college education is a dream for many parents, but as the cost of university tuition has skyrocketed since today's parents were in college, that dream has become unattainable.  You may have put checks that you received as wedding gifts or enclosed in cards attached to the crocheted blankets older family members gave to your newborn children into savings accounts in the hopes of using them toward your kids' college tuition, but by the time your children graduated from high school, the money you saved added up to a drop in the bucket, a down payment on a student activities fee.  With rising costs of university tuition and with the widespread perception that a college degree is the surest path to financial stability, an increasing number of parents have borrowed money to help pay their children's tuition; in fact, some types of student loans exist specifically for this purpose.  The bad news is that the monthly payments on these loans can be as overwhelming for parents as other types of loans are for the students themselves.  The worse news is that it is well nigh impossible to make Parent PLUS loans disappear.  The good news is that, if you are struggling financially because of student loans you borrowed to help finance your children's education, a Philadelphia consumer law attorney can help you manage your debt.
Why Parent PLUS Loans Are So Risky
PLUS originally stood for "Parent Loan for Undergraduate Students," but now it is a vestigial acronym, like SAT, which stood for Scholastic Aptitude Test.  Today, there are Parent PLUS loans, which parents can borrow toward tuition for their children's undergraduate education and Grad PLUS loans, which students can borrow to pay for master's, doctoral, or professional degrees.  Parent PLUS loans have gained popularity in recent years, with a 40 percent increase in the total amount owed on the loans since 2014.
The trouble with Parent PLUS loans is that parents can borrow as much as they need (the limit is the cost of attendance, which includes tuition and living expenses, minus other financial aid).  The credit check is easy to pass, compared to the amount borrowed and the interest rate.  This means that many parents of modest means take out Parent PLUS loans to help their kids pay for college and then struggle to keep up with monthly payments.  Many borrowers, including 75 percent of Black borrowers, have an adjusted gross income of $75,000 or less.
The income-driven repayment program for Parent PLUS loans offers parents little relief.  If parents pay 20 percent of their discretionary income toward the loan each month for 25 years, the rest will be forgiven.  The problem is that most people are well past retirement age by the time their children graduate from college.  Parent PLUS loans, like most student loans, cannot be discharged in bankruptcy.
Let Us Help You Today
If you are struggling financially after taking out Parent PLUS loans or other loans to help pay for your children's education, a Philadelphia debt collection abuse attorney can help.  Contact Louis S. Schwartz at CONSUMERLAWPA.com to set up a free, confidential consultation.
Resource:
yahoo.com/news/federal-college-loan-program-trap-121042742.html