Three Red Flags To Avoid When Hiring A Home Contractor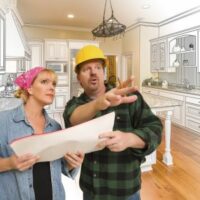 According to Pennsylvania law, home contractor fraud is a serious crime, punishable in some cases by prison.  If a building contractor defrauds you and then gets convicted of home contractor fraud, then you, the homeowner, are still stuck with a house that needs many thousands of dollars of repairs.  Many homeowners who suffer heavy financial losses because of dishonest dealings by building contractors realize, in retrospect, that there were warning signs that the contractor wasn't being straightforward with them.  Sometimes you can avoid home contractor fraud by consulting a Philadelphia home contractor fraud lawyer before you sign an agreement with a building contractor, especially if you are concerned about the terms they are proposing for the contract.
Being Evasive About Their Credentials and Reputation
Before you hire a home contractor, you should verify that their contracting license and business insurance are valid.  They should readily show you this information when you ask, or even before; the best contractors are transparent about their licensing credentials on their websites.  Likewise, they should provide references on request.  (The best reference is someone you know personally.)  If contractors are unwilling to provide references, and if the online reviews of them are old, sparse, or fake-looking, this is a red flag.
Prices That Are Too Good to Be True
Before you choose a contractor, you should get estimates from several home contracting companies, and these estimates should be as detailed and as itemized as possible.  Just as math teachers often ask students to show their works, and the IRS wants people to itemize their tax deductions, you should ask contractors to show you in detail how they arrived at the price they are asking you to pay.  The most reasonable price is not necessarily the lowest; a contractor that charges much less than their competitors may be doing sloppy work or using poor quality materials.  They also might be charging you less because they are not licensed or insured.  Don't be tempted by discounted prices; you will pay more in the long run if you hire a contractor that does a less than professional job.
Asking You to Pay Too Much Upfront
What counts as a reasonable amount to pay upfront before the contractor starts their work depends on what kind of construction or renovation they are doing.  If you can pay them the cost of the materials needed for each phase of the work one phase at a time, that is better than if they ask you to give them enough money at the beginning to cover the materials of the whole project.  Here, an itemized estimate will help you see how much each of the materials costs, so there is no ambiguity about the timeline and budget of the project.
Contact an Attorney Today for Help
A consumer law attorney can help you avoid entering agreements with home contractors where you are vulnerable to getting stuck with unfinished or poor quality work.  Contact Louis S. Schwartz at CONSUMERLAWPA.com to set up a free, confidential consultation.