Used Car Dealer Contract Requirements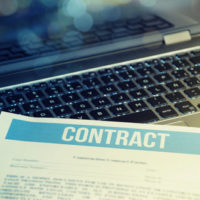 Although many people know that used car dealers in Pennsylvania are required to comply with certain regulations when it comes to advertising and general business practices, few are aware that they must also use and refrain from using specific language in their contracts. If you believe that the contract for the sale of your own used car contains questionable provisions, please don't hesitate to contact a member of our Philadelphia used car fraud legal team today to learn more about your legal rights.
What Must My Contract Contain?
When it comes to used car sales contracts, dealers must ensure that certain standards are met. For instance, all contracts for the sale of a vehicle must be in writing and the purchaser must be provided with a copy of that agreement at the time that it is signed. Dealers must also include certain identifying information about the car in their sales contracts, such as:
The make, model, year, and VIN of the purchased vehicle and any trade-in; and
A statement about the vehicle's prior usage.
The dealer must also clearly state the total contract price, as well as an itemized list of charges that aren't included in the purchase price, such as the cost of:
Services;
Repairs;
Dealer-installed optional accessories; and
Document preparation.
Dealers are also required to include details about any express warranties offered with the vehicle, such as a manufacturer's limited warranty or a warranty specifically offered by the dealership itself.
What Cannot be Included in My Sales Contract?
Besides being required to ensure that certain language is included in all sales contracts for used vehicle, dealers are also prohibited from including certain provisions. For instance, dealerships are strictly barred from using a liquidated damages clause in their contracts, or any clause that requires the forfeiture of a buyer's deposit if he or she decides to cancel or somehow breaches the contract. The only exception to this rule applies when:
The clause contains a certain dollar amount or item that the dealer will retain in the event of cancellation or breach;
The clause in the contract is clear and conspicuous;
The buyer agrees to the clause and demonstrates agreement by initialing the contract; and
The clause is not otherwise against the law.
Dealerships are also prohibited from trying to exclude the implied warranties of fitness and merchantability for a certain purpose when an express warranty is also left out. The only way this rule can be overcome is by putting a notice in the window of the car itself that is in at least 20-point bold type and states that:
The vehicle is being sold without any warranty; and
The purchaser will be required to pay for the repair or correction of any defects that exist or could occur in the car, unless the salesperson agrees in writing to correct those defects, or promises in a writing that specific defects don't exist.
Contact a Used Car Fraud Attorney in PA
To find out  more about your contract rights when it comes to buying a used car, please contact dedicated Philadelphia used car fraud attorney Louis S. Schwartz at CONSUMERLAWPA.com or by calling 215-790-1800 today.
Resource:
pacode.com/secure/data/037/chapter301/chap301toc.html