Common Car Repair Scams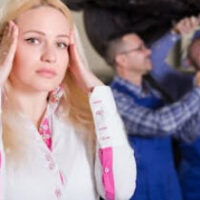 Some of the most commonly filed consumer complaints involve allegations of auto repair fraud. Unfortunately, pursuing these types of claims is often extremely difficult for consumers, as most of us are not experts in car repair and may not initially realize that we have been taken advantage of, so if you recently fell victim to an auto repair scam, it is important to consult with an experienced Philadelphia repair shop fraud lawyer who can walk you through your legal options.
Repair Estimate Scams
One of the most popular auto repair scams used by mechanics involves the use of unfair repair estimates. This occurs when a repair shop gives a customer a reasonable verbal quote at the time that a car is dropped off, but when the owner comes back to pick up, he or she is given a final bill that is much higher than the initial estimate. While it is true that a mechanic could find additional problems with a vehicle once he or she begins work, it is also true that mechanics and shop owners often purposely leave estimated amounts blank on repair authorizations and then once the consumer has signed the agreement, write in an inflated amount.
Maintenance Hook Schemes
Some repair shops choose to offer check-ups and preventive maintenance services at reasonable rates and then once a customer brings in a vehicle, claim that the car needs unnecessary repairs. This is often easy for repair shops to get away with because modern vehicles are extremely complex and highly technical machines and most of us are not experts on auto repair. Unfortunately, this makes the intentional misrepresentation of repair needs a real risk for consumers.
Vehicle Part Replacement Scams
Another scheme used by unscrupulous auto mechanics is charging customers for vehicle parts (as well as the labor required to install them) that weren't actually used. Alternatively, a mechanic could install used car parts to repair a vehicle, but then charge customers as though the parts were new.
Precautionary Measures to Take When Getting Your Car Repaired
Determining when a repair shop has engaged in fraudulent practices can be difficult, so it is in a vehicle owner's best interests to take certain precautionary measures when getting a vehicle repaired, including:
Asking for a written estimate before authorizing repairs;
Obtaining all guarantees in writing;
Checking out a repair shop's history before hiring them;
Obtaining several estimates from different mechanics;
Ensuring that the repair shop honors existing warranties; and
Asking for old or damaged parts after they are replaced with new ones.
Once a consumer has actually gotten repairs, he or she should also consider creating a repair log that contains information about:
How a vehicle has been maintained, including receipts, work orders, and invoices;
Failed repair attempts and the number of days a vehicle was out of service;
The date and mileage each time a vehicle was taken in for repairs;
The dealer or repair shop where repairs were performed;
The service requested, as well as a description of the vehicle's problems; and
Any out-of-pocket expenses, including receipts for towing, gas, and repair fees.
While taking these steps does not guarantee that a person will not be taken advantage of by a repair shop, it can significantly reduce their chances of being defrauded.
Contact Our Philadelphia Office Today
Please call experienced Pennsylvania repair shop fraud attorney Louis S. Schwartz at CONSUMERLAWPA.com for a free review of your case.