Why Do Insurance Claims Get Denied?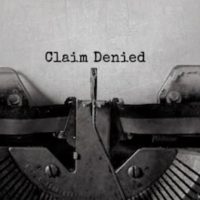 Buying an insurance policy and paying the premiums every month or every year is simple, but when it comes to getting your insurance company to pay you the money it promised to pay, things get much more complicated.  After you file an insurance claim, you might get an unpleasant surprise in the form of a letter saying that the insurance company has denied your claim, or that the amount that it has agreed to pay on the claim is much less than the financial losses you were trying to claim.  Sometimes denied claims are due to mistakes by claimants, but sometimes, even if you do everything right, the insurance company will still deny the claim for a trivial or unfair reason.  Making sure that you are doing everything you need to do to protect yourself from a denied claim can be harder than it sounds.  If a large amount of money is at stake in the insurance claim, it is a good idea to hire a Philadelphia insurance claim denial lawyer.
Policyholders Not Acting Quickly Enough
The fine print on your insurance policy probably specifies a deadline for filing an insurance claim (for example, 30 days or 60 days after a car accident, flood, or whatever type of incident the insurance policy covers), but this is not the only way that waiting too long can jeopardize your claim.  The burden of proof is on you, the claimant, to show that your financial losses are due to the type of problem that the insurance policy covers and not to something else.  A classic example is car insurance claims where the injured claimant's symptoms got worse several days after the accident, and the insurance company alleged that it was because the claimant sustained a new, unrelated injury within the first few days after the accident.  This is why you should go to the doctor to be examined immediately after an accident, even if you feel fine; the point is to have incontrovertible documentation of the accident, not to seek medical treatment that you might not need.
Games Insurance Claims Adjusters Play
No matter how diligent you are, insurance claims adjusters will try to trick you into contradicting yourself or saying things to undermine your claims.  The dirtiest tactic in the book is the recorded statement.  If an insurance agent wants to take a recorded statement, you should refuse.  You should contact a lawyer and have your lawyer give a statement on your behalf.
Passing the Buck About Which Insurance Policy Is Responsible for Paying
Insurance companies may also argue that some other insurance policy is the one where you should file the claim.  This especially happens with insurance claims related to damage to your house in extreme weather events.  It matters where on your property the damage occurred and why.  Your homeowners' insurance policy might say that your flood insurance should pay, but your flood insurance policy might say that it is the responsibility of your homeowner's insurance.
Contact Louis S. Schwartz About Protecting Yourself Against Unfair Denial of Insurance Claims
A Philadelphia consumer law attorney can help you if your insurance companies are unfairly refusing to pay your claims.  Contact Louis S. Schwartz at CONSUMERLAWPA.com to set up a free, confidential consultation.
Source:
valuepenguin.com/why-your-auto-insurance-claim-may-be-denied-and-what-do-if-it