The Pennsylvania Home Improvement Consumer Protection Act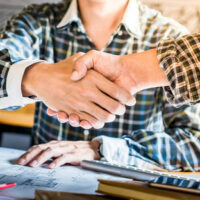 There are a number of federal laws in place that aim to protect homeowners from unscrupulous contractors. Many homeowners don't know, however, that contractors are also prohibited from using deceptive or unfair practices in their dealings with homeowners by state law. To learn more about the legal remedies available to you under the Pennsylvania Home Improvement Consumer Protection Act, please contact an experienced Philadelphia home contractor fraud lawyer today.
Written Agreements
The Pennsylvania Home Improvement Consumer Protection Act provides Pennsylvania residents with a wide range of protections, many of which pertain to agreements between contractors and homeowners. For instance, under this state law, only agreements that are in writing are considered legally enforceable. Furthermore, these written agreements must contain the entirety of the agreement reached by the homeowner and the contractor in question. At the very least, these contracts must include the following information:
A description of the work to be performed;
The approximate start and completion dates for the project;
Any specifications that cannot be changed in the absence of a written change order that is signed by both parties;
The total sales price due upon completion of the job; and
A separate line item recording any down payments.
Home contractors who fail to comply with these rules can be held liable if their actions resulted in harm to a homeowner, so if you recently entered into an agreement with a contractor and believe that you were taken advantage of, you should call an experienced attorney who can explain your legal options.
Legal Rights in the Event of a Dispute
Many Pennsylvania contractors attempt to limit a homeowner's legal right to file suit in the event of a dispute by purposely including language that eliminate those rights in contractual agreements. For instance, it is not uncommon for contractors to include clauses that mandate arbitration in the event of a dispute. However, under state law, these types of provisions are only enforceable if:
The text of the clause is written in all capital letters and in 12 point boldface type;
The clause appears on a separate page;
The parties assent to be bound by the clause as evidenced by a dated signature;
The provision states whether the decision of the arbitration is binding or can be appealed; and
The clause states whether the facts of the dispute and related documents are confidential.
In some cases, an entire contract can be voided if a contractor includes certain language in the agreement. For example, contractors are not permitted to waive federal, state, or local health, safety, or building code requirements. Similarly, contractors cannot force a homeowner to waive the right to a jury trial, to give up the right to assert a claim arising out of the contract, or to agree that the contractor will be awarded attorney's fees and costs in the event of a dispute.
Finally, it's important to note that under state law, homeowners have the legal right to rescind a home improvement contract without incurring any penalties, as long as they do so within three days of signing.
Schedule a Free Consultation Today
If you were misled or defrauded by a home contractor, you could be entitled to compensation for your losses. Please contact dedicated home contractor fraud attorney Louis S. Schwartz at CONSUMERLAWPA.com today to learn more about your legal options.
Resource:
attorneygeneral.gov/resources/home-improvement-contractor-registration/contractor-frequently-asked-questions/