The Five Types Of Home Mortgage Loans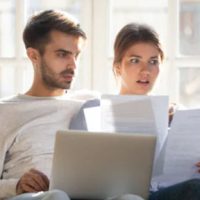 Qualifying for a home mortgage is a lot of people's biggest financial goal, especially if you are young enough that you do not intend to retire for several decades.  Home mortgage loans are the largest amount of money most of us will ever borrow.  The process of working with a loan officer is often long and stressful, and people focus on gathering the documentation they need and answering challenging questions about their financial habits.  They assume that qualifying for the mortgage is the hard part, and once they close on the house, keeping up with monthly mortgage payments will be the easy part.  Unexpected financial hardships can happen, though, and some mortgage repayment options are more resistant to them than others.  If you are dealing with a mortgage loan that is more difficult to repay than you thought, contact a Philadelphia mortgage foreclosure lawyer.
Conforming Mortgage Loans
Conforming loans meet the standards set by the Federal Housing Finance Agency (FHFA).  This means that there is a limit to how much lenders can lend you, and that amount varies according to your credit score.  Therefore, if you receive one of these loans, you will easily be able to keep up with payments unless your finances take a turn for the worse.
Nonconforming Mortgage Loans
Nonconforming loans do not meet the FHFA standards, which means that they are riskier than conforming loans.  Most people who choose nonconforming mortgage loans usually do so because they cannot qualify for conforming loans.
Jumbo Mortgages
Jumbo mortgages require a large down payment, usually 20 percent.  These mortgages are almost always found in expensive real estate markets, where affordable housing is scarce.
Government-Insured Loans
Government-insured loans come with backing from a federal agency, such as the Federal Housing Administration (FHA), United States Department of Agriculture (USDA), or Department of Veterans' Affairs (VA).  These federal agencies do not lend the money, but they provide guarantees, allowing borrowers who cannot qualify for conventional loans to obtain mortgage financing.  The loan amounts of government-insured loans are usually relatively small.
Adjustable-Rate Mortgages
All of the above kinds of loans have fixed interest rates; if the interest rate was three percent when you closed on the house, it will still be three percent when you pay the final installment.  Meanwhile, adjustable-rate mortgages guarantee that the interest rate will stay the same for X number of years, but after that, it will increase proportionally with inflation at regular intervals, such as once every six months.  If you have an adjustable-rate mortgage, it is in your interest to pay as much as possible toward the principal before the interest rate increases.
Contact Louis S. Schwartz About Getting the Best Mortgage You Can or Living With the One You Have
A Philadelphia consumer law attorney can help you build a short-term and long-term strategy to be able to afford home ownership, even if it involves debt consolidation or refinancing your home mortgage.  Contact Louis S. Schwartz at CONSUMERLAWPA.com to set up a free, confidential consultation.
Source:
en.as.com/latest_news/what-are-the-differences-between-the-five-types-of-mortgages-n/