Registering On The Do Not Call Registry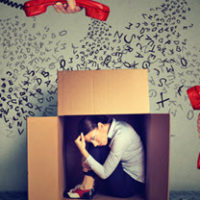 When telemarketers are calling you at all hours of the day, you likely want to stop the calls as soon as you can. Some people try to deal with the unwanted calls by registering on the National Do Not Call Registry. Registration on the National Do Not Call Registry does not mean that all unsolicited calls will be stopped, but it can serve to limit the number of sales calls.
Registering is fairly simple, and is done by visiting a website maintained by the Federal Trade Commission. Registration is free and no one should pay to register his numbers on the registry. It takes about a month for calls to stop after registering on the national registry.
Once a person registers on the National Do Not Call Registry, he may still receive calls from people working for charities, political groups, and organizations conducting surveys. Registration also doesn't stop debt collectors and companies with which a person has a pre-existing relationship. Pennsylvanians can also register on the state's Do Not Call List. This list provides similar protections to the national registry.
If telemarketers and other callers who do not fit within the exceptions mentioned above call you despite you registering on the Do Not Call List or the National Do Not Call Registry, you should report the telemarketer to the Federal Trade Commission and the Pennsylvania Office of the Attorney General.
Registration on the state and federal do not call lists also does not stop scam artists from getting through. If you still get calls from unknown numbers despite registration, you can take some steps to protect yourself. The first step is to hang up without answering any questions or pressing any buttons. However, remember that legitimate creditors may call you despite your registration, and you may need to handle these calls differently.
You should also consider getting call blocking technology to identify and screen unwanted calls. If you are receiving these unwanted calls on a cell phone, you can download an app to help block these unwanted calls.
Remember that registration on the Do Not Call Registry and List does not work with businesses which have a relationship with the consumer. This means that if you freely give out your telephone number to a business as part of a contest or promotion, you could be giving that business permission to call you despite your number being registered. You should therefore be very careful when it comes to choosing which businesses to give your number. Some businesses have internal do not call lists that you can request to be placed on when you receive an unwanted call from a representative.
Contact Us for Legal Assistance
There are laws and rules that govern what actions a debt collector can legally take when contacting a consumer in an effort to collect a debt. When debt collectors violate the law in trying to collect a debt from a consumer, the debt collector can be held responsible and be order to compensate the consumer. To learn more about how you can seek compensation or stop a harassing debt collector, contact an experienced debt collection abuse attorney in Philadelphia at Louis S. Schwartz at CONSUMERLAWPA.com.
Resource:
attorneygeneral.gov/Consumers/Do_Not_Call_List/