Columbia County Home Builder Accused Of Financial Crimes After Abruptly Closing Business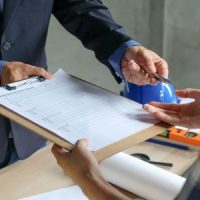 Building a house from the ground up is a major investment of time and money, even when everything goes according to plan.  If you embark on a project to build a house as a celebration of your prosperity, then even in the best of circumstances, by the time the house is finished, you will realize that you are not as wealthy as you thought you were.  It is one thing when the building project takes longer than you had hoped or if unexpected expenses related to the project arise; building contractors, no matter how meticulous, cannot always be 100 percent accurate in their estimates.  It is another matter entirely when a construction company simply abandons your project, leaving you with an unfinished house, or with nothing at all to show for the money you spent.  If a construction company started building a house for you and then vanished, contact a Philadelphia home contractor fraud lawyer.
Construction Business Owner Allegedly Assaulted Customer Who Confronted Him About Unfinished Work
Early 2022 was a tough time for everyone; as the omicron wave subsided, cabin fever and the rising prices of everyday goods reached a fever pitch, but people were holding onto hope for better times.  In January 2022, Ron Herbst hired Vision Home Builders to build a house for him in Schuylkill County.  By April 2022, Herbst had spent over $100,000 on the project, and Vision had built the foundation and the walls of the house.  That was when McCreary sent an email to Herbst and all the other customers who had projects with Vision pending, announcing that the company was going out of business because he could no longer afford to keep it open.
In the ensuing months, police departments in several counties received numerous complaints from customers who claimed that they had suffered financial losses after McCreary abruptly closed Vision Home Builders and ghosted them.  A warrant was issued for his arrest on suspicion of fraudulent and deceptive business practices, theft by deception, and home contractor fraud.  He eventually turned himself in to police in the summer of 2022, but not before Amber Bradshaw, another customer whose unfinished project McCreary had abandoned, went to the Vision Home Builders office, accompanied by a news reporter and a photographer, to confront him.  Video footage of the encounter shows McCreary shoving Bradshaw and her companions.  As a result of this incident, McCreary was also charged with harassment, disorderly conduct, and simple assault.
News reports have gone silent about McCreary's case since last summer.  It is unclear whether McCreary was convicted of any of the charges against him or whether the customers who lost money because of his actions were able to recover the money.
Contact Louis S. Schwartz About Home Contractor Fraud
A Philadelphia consumer law attorney can help you if you paid a construction company to build a new house for you, but they never finished the job.  Contact Louis S. Schwartz at CONSUMERLAWPA.com to set up a free, confidential consultation.
Sources:
pahomepage.com/news/i-team/vision-home-builders-owner-jeff-mccreary-surrenders-to-police/
pahomepage.com/news/i-team/vision-home-builders-owner-jeff-mccreary-charged/