Beware of Purchasing Used Cars Flooded During Hurricane Michael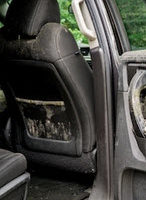 Thousands of vehicles have been damaged or destroyed during hurricanes in the last year. That is not to say however, that all cars affected by flood damage can't end up in your own driveway. In fact, many vehicles that are damaged by floods are repaired and then resold in other parts of the country where buyers aren't aware of the car's history. Unfortunately, even vehicles that were flooded and then allegedly repaired could have serious problems, which is why used car dealers are required to notify potential buyers if a vehicle has flood damage. Dealerships that fail to fulfill this duty put buyers and others on the road at risk, so if you purchased a used car and later discovered that it had been damaged in a flood, it is important to speak with an experienced used car fraud attorney who can help you seek compensation for your losses from the at-fault party.
Signs of Flood Damage
Flood damage is easier to conceal than damage caused by a wreck, but can be just as devastating to the engine, mechanical system, electronics, and lubricants, so it is important for used car buyers to keep an eye out for signs of deep water exposure, which could include:
Evidence that the car's carpets have been waterlogged, which could manifest as caked-on mud or a musty smell;

Evidence that the seat-mounting screws were removed, which is necessary to fully dry out water logged carpets;

A visible waterline on the car's lenses or reflectors;

Signs of rust on any unpainted exposed metal, such as screws, nuts, bolts, and seat rails;

Signs that the rubber drain plugs under the car and on the bottom of doors have been recently removed;

Evidence of mud, debris, salt, and grime in areas that are difficult to clean, such as the gaps between panels on the sides of the doors, under the hood, and in the trunk;

Evidence of sediment, dirt, or stones in the door pockets;

A musty or moldy smell where the spare tire is kept; and

A flood line along the back of the engine bay.
Unfortunately, not all dealers disclose information about flood damage to potential buyers, although they are required to, so while it's a good idea to obtain title records and car history reports, it's also important to have an independent mechanic inspect the vehicle prior to purchase.
The Dangers of Flood Damage
Identifying evidence of flood damage when purchasing a used vehicle is critical because flooding can make a car extremely unsafe. For instance, flooding can destroy a car's electronic system, which in turn can affect safety features like anti-lock brakes and air bags, while rust can compromise the stability of the vehicle's frame itself. In fact, flooded vehicles can also cause health problems for users, especially for vehicles that sat in unclean water for a long period of time. In these situations, it is not uncommon for seats and carpets to play host to a wide range of dangerous bacterias.
Contact Our Office Today for a Free Consultation
If you purchased a flood damaged car, but were not notified of the damage before purchasing it, you could be eligible for reimbursement for the vehicle itself, as well as any other incidental costs. To learn more about filing your own claim, please contact dedicated Philadelphia used car fraud attorney Louis S. Schwartz at CONSUMERLAWPA.com today.
Resource:
fox6now.com/2018/09/14/scam-alert-beware-buying-flood-damaged-cars/