Montgomery County Electrician Accused Of Defrauding Dozens Of Customers In Six Pennsylvania Counties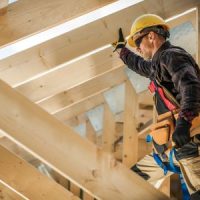 The COVID-19 pandemic coincided with a business boom for home improvement contractors.  People were stuck at home for months, and homeowners had time to notice all the things in their houses that needed repair; anything that was beyond the homeowner's DIY skills resulted in a call to a contractor.  Besides, during the lockdown of 2020, people who were fortunate enough to own their houses and keep their jobs had few other ways to spend their time and money; you only need so many content-streaming subscriptions to stay entertained 24 hours a day.  Pandemic or not, people call electricians for reasons other than because they have thousands of dollars burning a hole in their pocket.  You might be trying to prevent an electrical fire or an electrical outage.  Not having electricity at home can be a health hazard in the Pennsylvania winter, or, if you rely on a medical device that requires electricity, a power outage can affect your health within hours no matter the weather.  A Montgomery electrician allegedly took advantage of these fears when he promised to do electrical repairs and install generators for homeowners in six Pennsylvania counties, but then disappeared after collecting deposits from the customers.  If an electrician or other home improvement services company cut off contact with you after collecting a deposit, contact a Philadelphia home contractor fraud lawyer.
Electrician Allegedly Scammed 64 Families Out of a Total of $470,000
Joseph Ford of Collegeville operates a company called 1st Call Electric, LLC; the company performs electrical repairs and installs backup generators.  Between December 2020 and October 2022, he allegedly collected partial payments for 64 projects he did not complete.  These projects included electrical repairs and generator installations at residences in Berks, Bucks, Chester, Delaware, Montgomery, and Philadelphia Counties.  As of January 2023, police were still investigating complaints against Ford from Lower Bucks County but no criminal charges had been filed in connection to these complaints.
The alleged victims all reported similar interactions with Ford.  They would ask him to install a generator, repair electrical wiring, or both, and he would collect a deposit and promise to return after buying the necessary supplies.  After collecting a deposit from each victim, Ford would stop communicating with them and not return their calls or messages.  In at least one instance, he allegedly made two charges on the same customer's credit card.  Thus far, 64 homeowners have accused Ford of defrauding them out of anywhere from about $1,400 to about $16,000.  The criminal charges he is facing include deceptive business practices, theft by deception, receiving stolen property, and false statements to induce agreement for home improvement, among others.
Contact Louis S. Schwartz About Home Improvement Fraud
A Philadelphia consumer law attorney can help you if an electrician or other home improvement professional disappeared after collecting payment for work on your home but never returned to finish the project.  Contact Louis S. Schwartz at CONSUMERLAWPA.com to set up a free, confidential consultation.
Source:
levittownnow.com/2023/01/24/electrician-accused-of-contractor-fraud-in-lower-bucks-county-across-southeastern-pa/